Edupod is honoured to be a recipient of the Singapore SME 500 Award and to be recognised and ranked as one of Singapore's top 500 SMEs.
The Singapore SME 500 Award was initiated to recognise leading Small-Medium Enterprises across the country's major trade industries that have made significant contributions to Singapore's GDP. Today, it continues to recognise well developed and effectively managed SMEs, honouring businesses with a proven track record of success.
Last year, we were faced with a series of unforeseen circumstances with the outbreak of the COVID-19 pandemic. As such, the theme of the SME 500 Award has been set in view of how businesses have further their capabilities to adapt to a more digitalised journey and how they have equipped themselves with the transformation and technological knowledge to do so. This year's award also recognises SMEs that have displayed resilience and adapt according to the environment.
Edupod celebrates our 11th year in the year 2021, and we are honoured and elated to be a recipient of this award, celebrating a milestone of a decade of providing innovative learning solutions to our education industry.
Throughout the past eleven years, Edupod has built itself up to become a market leader in design, supply and distribution of children furniture, playgrounds, protection guards and safety locks to early childhood and education institutions in Singapore and even the Southeast Asia region. In our market, we are the sole distributor of many global brands such as Hape from Germany, Arte Viva from Holland, D&D technologies from Australia, Sumo Didactic from Spain, and even our popular Jungle Gym playground sets from Holland. We believe in bringing joy to both sides through brand distribution, giving the local market a wider range of quality product availability and to bring and expose these brands even further, making our world even more interconnected.
With a dynamic and multi-talented team comprising of project managers, designers, craftsman, and installation artists, Edupod is proud of its capabilities to meet the needs of our customers and provide them with the quality and aesthetic excellence. With skilful designers and our manufacturing capabilities at our very own workshop, it also means we can customise easily to suit customers' requirements.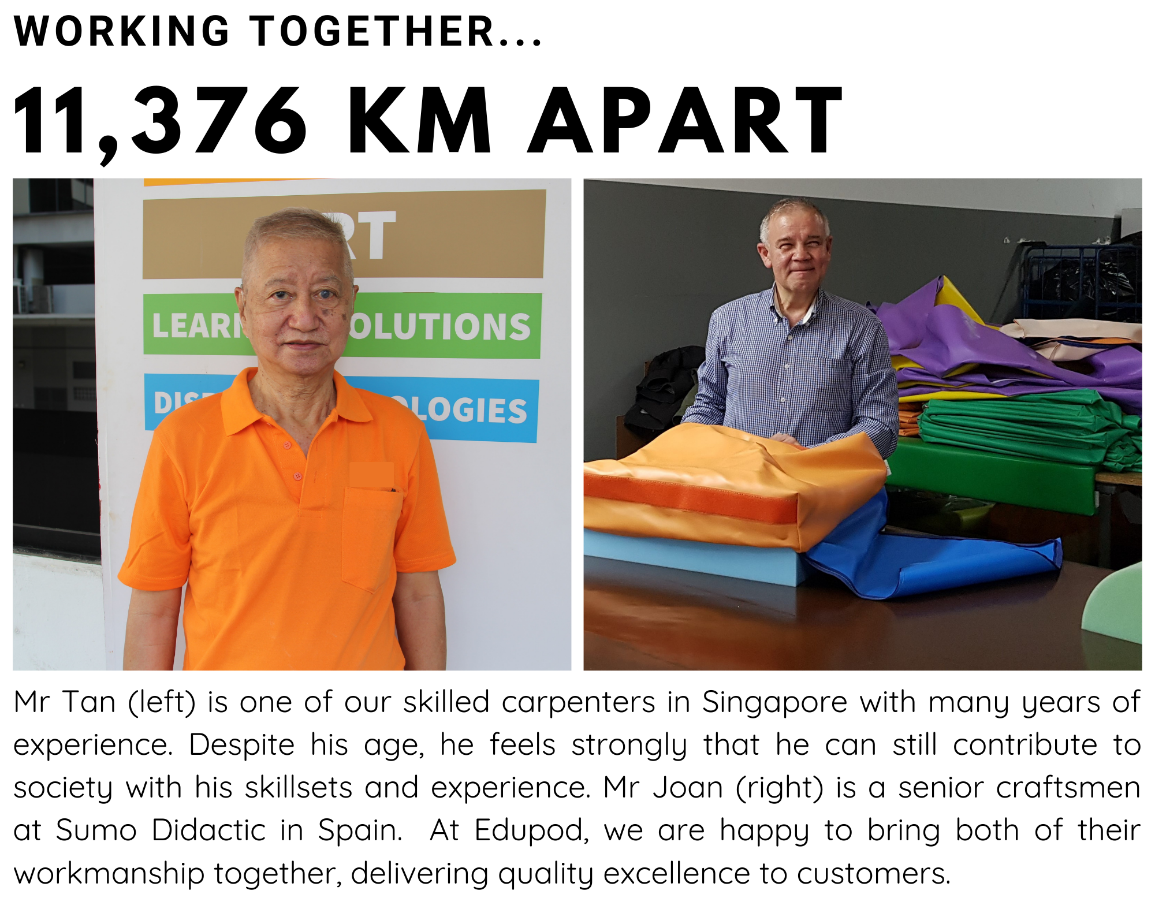 As a market leader, Edupod also prides itself on our equal employment opportunities. We believe in hiring people based on their competencies, and that age, is sometimes just a number. We have also incorporated flexible working arrangements to better suit our mature employees.