<
>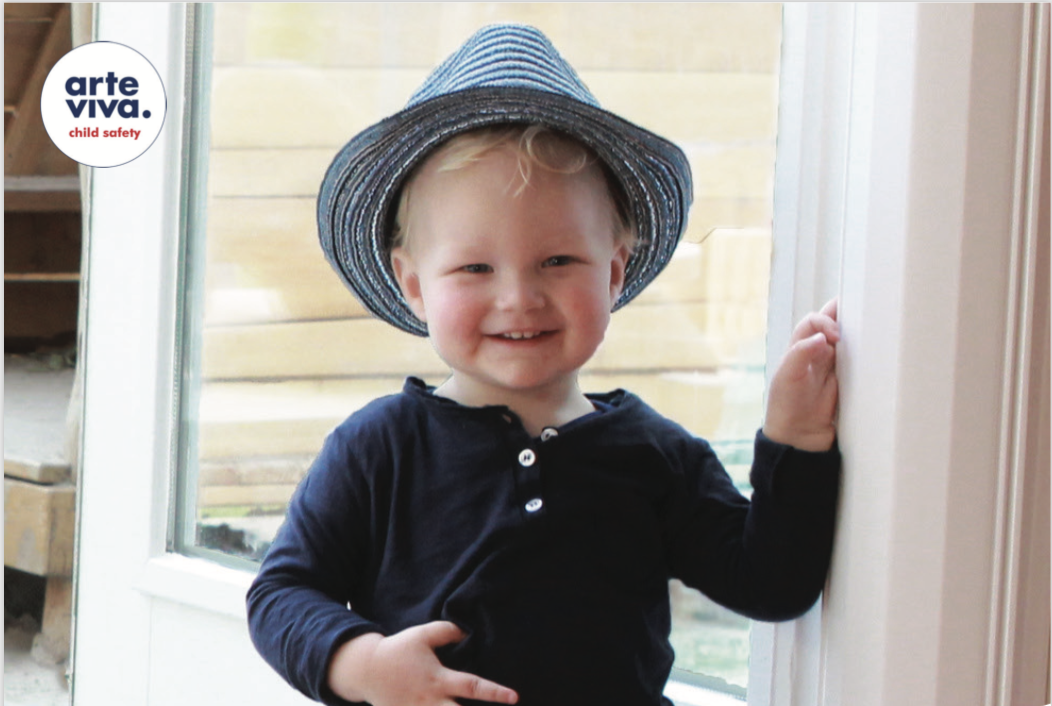 Introduction
Most children spend many hours of their time during the day at a kindergarten or in school. Therefore, it is important that the kindergartens and schools are safe for children, so they can play, explore, learn and develop in a safe environment. Nevertheless, not all kindergartens around the world focus on high child safety which results in children hurting themselves, sometimes even very severely.
This whitepaper gives people the opportunity to create and develop safe kindergartens and schools for every child. It will present the high percentage of child accidents in kindergartens and the right solutions on reducing child accidents significantly.
Problem Statement
Finger entrapment
About 30,000 people each year rush to the emergency room in the US due to fingers being pinched in between the door and the door frame, especially children are at greater risk as they are more likely to put their fingers in between doors. Looking into statistics, 3 out of 4 children in the age group of under four-year-old resulted from fingers that were trapped in a door.
Teach children not to place their fingers on the door frame
Make sure to close the doors to prevent them from slamming shut unexpectedly
Install door finger protection
>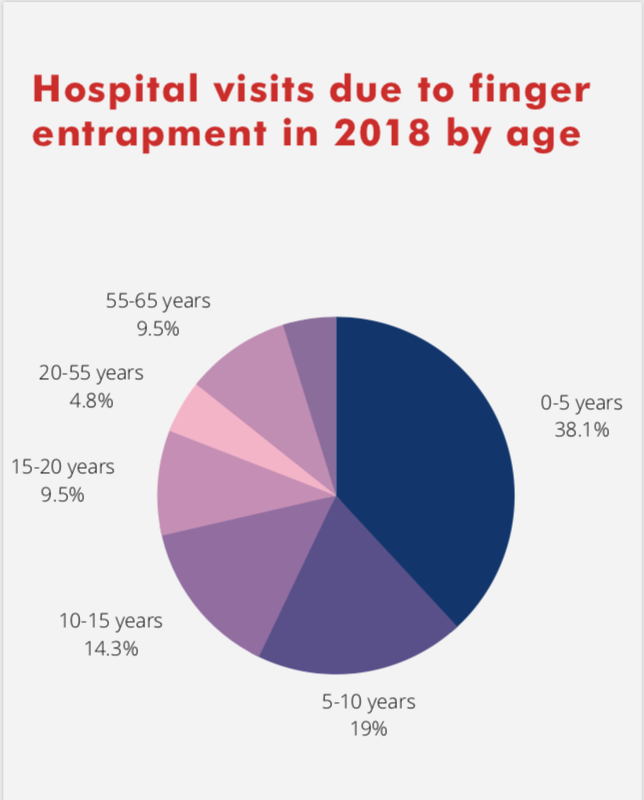 >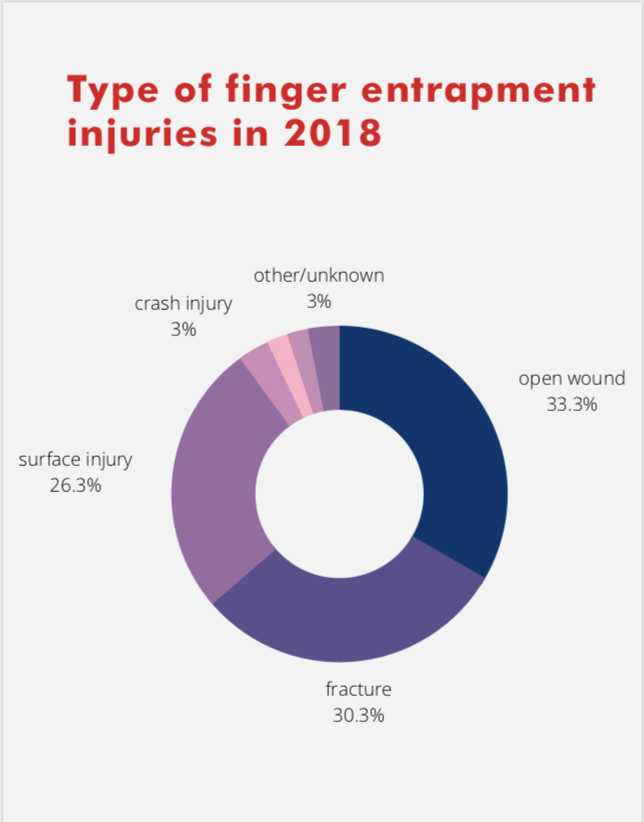 Falling
Falling is the most common cause of injuries for all ages reported in hospitals. When a child starts to learn how to walk, the risk of falling naturally increases dramatically. Usually, this results in nothing more serious than a bruise or scrape. However, a hard fall can lead to fractures, cuts, or head injuries.
Falling accounts for 4.2% of child injury deaths across the world. One of the top risks is falling through an open window: In France, more than 250 children suffer this fate each year, leading to fatal injuries in 10% and permanent disabilities in 40% of the cases. The same is true for the United States where 300 children younger than the age of five are injured annually due to falling through windows, a risk that is even greater in the spring and summertime.
Teach your child not to run on slippery floors (lead by example)

Use anti-slip stickers to prevent falls and to teach children how to walk in a safe way, e.g., along the banisters

Do not use baby walkers since they give the toddler unexpected mobility Changing tables should have barriers that are high enough (at least 10 cm/4 in) to prevent babies from falling

Use a full-body safety harness in strollers

Remove tripping hazards and clear the floor to decrease chances of children bumping into obstacles

Secure sharp edges on tables and furniture with corner protectors

Do not keep any furniture or tall objects under the window that could enable the child to climb up to the window and never let a child out of your sight. When it is possible, open the upper end of the window instead of the bottom
​
Our solutions for…
We from Arte Viva offer different solutions to prevent injuries and accidents for children in kindergartens and schools. Our mission is to create a safer world for our children where they can play, explore, learn and develop in a safe environment.
Doors
Finger Alert 110° Transparent door finger guard that comes in different lengths. It is sold as a set of two pieces and thanks to the adhesive profiles it can be installed very easily within 5 minutes.
Finger Alert 170-180° Professional
For doors with a larger opening (up to 180 degrees angle). It comes in anthracite, brown, and white and in different lengths. The set comes in 4 different parts and is super easy to install in 5 minutes with adhesive.
Finger Alert Door Slam Stopper Prevents the door from slamming by blocking it. The metal door stopper is installed on the top part of the door frame to absorb the heaviest blows. If the door is closed properly, the anti-slam will not block the door and it will close normally.
Finger Alert Extreme
For extremely wide openings and special doors
>

Corners
The Corner Guard range has been developed to prevent children from hurting themselves by bumping into edges or corners. Made from safe, bite-resistant, soft plastic to shield corners.
Radiators
Radiator cover Keep children safe around heaters to prevent burning and hitting against the hard metal of the radiator. The modular system can be customized to any radiator size.
Acoustic
Acoustic Clouds are sound- absorbing panels for ceilings and walls to improve acoustic in classrooms and other spaces. The cloud shape makes the panel a playful element in a kindergarten or school.
Walls
These wall and pillar protection solutions have been designed to prevent children's injuries when they bump against the wall or fall while playing.
Windows
Window Alert Prevent children from falling through windows. A window restrictor that prevents children from opening the window
Other child- safe solutions
Safe Coat Hook Prevent children from getting head injuries when they bump into the coat hook. It is colorful with a playful design and children can personalize it with name stickers.
Child Safe Mirrors Empower kids to discover themselves, their faces, and expressions in a safe way. You can use the Static Smiley to customize the mirror.
>

Testimonials
Beth Philips – Montessori professional for over 40 years, USA
'' I absolutely think this should be on doors where there are children coming and going. I did experience a child at a school get their fingers broken because they put them in the opening by the hinges.'
M. Al Mishari – CEO Hospital Riyadh
He came running and full hit his head on the edge of the wall. Thank God, your cover was on the stand. All was o.k. and he continued playing. It was a powerful blow, but the product absorbed the impact and saved his life. Keep up the good work. You are doing a noble job
Conclusion
Door finger guards have been made mandatory in a lot of countries including France, Germany, the Netherlands, the United Arab Emirates, and Spain where they have proven their effectiveness in preventing avoidable finger injuries.
With the child-safe solutions of Arte Viva, you will be able to create a safe kindergarten and school environment for children to grow up in. Long-lasting products with the highest quality, certified and tested, and competitive prices due to high volume. Our child safety solutions are innovative and unique to offer the best for children. To know more, contact us via info@arteviva.nl or request a quote for our products.