The solution includes product certifications and an accompanying air quality report that meets the necessary standards for NEA health and safety requirements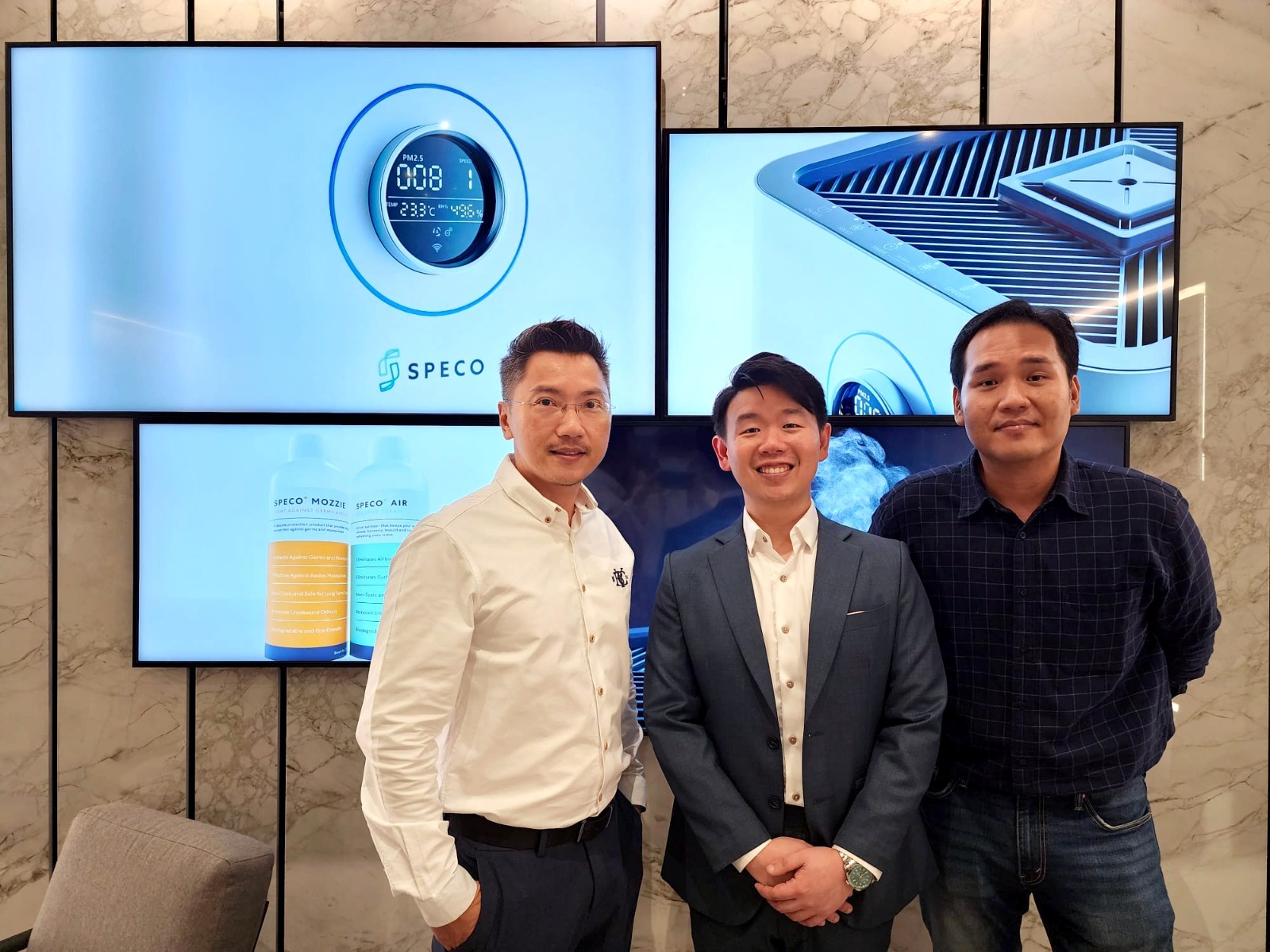 Left: Zak Lo, CEO, Edupod Pte Ltd, Benjamin Chua, CEO, SPECO, Raymond Chan, Director, uHoo
Edupod introduces the latest Environmental Sanitisation (ES) Solution for preschools and schools. Leveraging on uHoo and SPECO technology in their field, Edupod offers a solution that monitors, purifies and sanitises their learning spaces. As an early adopter, the need for good indoor air quality is essential for the health of children and teachers.
"The health and well-being of children and members of staff is important, and very much so that the borders are open. We are taking a proactive approach for schools, from curating learning spaces to the indoor air quality, we are always on the forefront of innovation and technology." says Mr. Zak Lo, Chief Executive Officer of Edupod.
With the introduction of uHoo Aura smart monitor, it provides educator a peace of mind, and ensure parents that schools are safe to reopen though clear evidence, allowing educators to make better decisions to enhance the health and well-being of the children.
uHoo Aura safeguards your environment through the measurement of 13 parameters, including Formaldehyde and VOCs. In addition, uHoo Virus IndexTM is based on a comprehensive analysis of multiple air quality factors. The safety thresholds are based on scientific research conducted by World Heath Organisation (WHO), the Occupational Safety and Health Administration (OSHA) and other universities.
"With the help of accurate air quality data, we are able to equip our educators the knowledge to know exactly what to do to ensure the air is optimised for health and safety, and that is where SPECO ION automates hygiene maintenance for you.", adds Mr Lo.
The SPECO ION is a revolutionary ambient sanitisation machine that automates hygiene maintenance. SPECO's award-winning antiviral coating was developed since 2019 and has been widely used throughout commercial buildings and offices during the COVID-19 pandemic.
Its capabilities combine air purification and sanitisation in a single compact device, such as ultraviolent light (UV) purification, ionic clusters, carbon-filtering for germs and volatile organic compounds, which makes this winning device the first dual air purifier and sanitiser machine, and is certified according to SS54 standards.
To address the IAQ audit requirements, Edupod's ES Solution provide accompanying air quality report for schools that are enrolled in this programme.
To experience the efficiency of this solution, demo units is available at our showroom at PLAYSCAPE @ EDUPOD, 315 Outram Road, Tan Boon Liat Building, #12-05, Singapore 169074.
For more information on Edupod's ES solution, please visit www.edupod.com.sg.
ABOUT EDUPOD
Edupod is a market leader in the design, supply, and distribution of children's furniture, playgrounds, protection guards, and locks for early childhood and primary education institutions in Singapore and the Southeast Asia Region. We understand the need for fun and learning in a safe environment for our children. Our products combine functionality with durability and adopt a sustainable design; using eco-green materials that not only allow for interactive play and enhance the user's experience.
For more information, please visit www.edupod.com.sg.
ABOUT SPECO
Speco is a Smart Hygiene company on a mission to create safe spaces by eliminating invisible dangers like viruses and bacteria. Our goal is a world with zero hidden dangers, and we do this through innovative products that protect the surfaces you touch and the air you breathe. Speco is designed to be easy to use, so you can focus on the things that matter most.
For more information, visit www.speco.sg.
ABOUT UHOO
At uHoo, we serve as staunch advocates of health, safety, and well-being. We are dedicated to providing people with technology to understand the air they breathe and empower them with the knowledge to enhance their health, safety, and well-being both at home and in the workplace. We translated this passion by building air and environmental quality monitoring solutions that people can easily use, learn from, and act upon.
For more information, visit www.getuhoo.com.
###
MEDIA ENQUIRIES
Name: Imelda Ho
Contact: +65 6950 5745
Email: promotions@edupod.com.sg